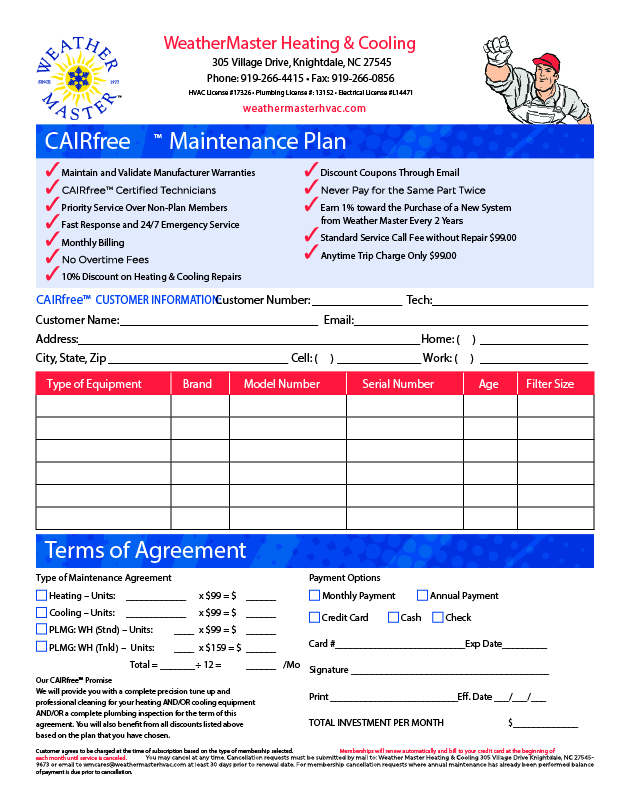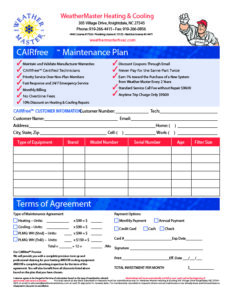 It's about more than service… it's about prevention.
With typical service agreements, you pay money for priority service when there's a problem. With a CAIRfree™ Comprehensive Maintenance Agreement, you not only get priority service, you can prevent those problems from happening in the first place and save money in the process!
Get the benefits of prevention with the service you expect from Weather Master Heating and Air! You will receive our exclusive CAIRfree Service. We'll strive to arrive on time and in a clean uniform! Plus, we'll cover our shoes before we enter, lay down work mats to keep our work areas clean, and tidy up when we're done. And we'll follow-up to make sure everything was exactly as you expected.
Further prevention benefits include:
Further prevention benefits include:
Weather Master Heating & Air Trust
Certified technicians (not an out-source contractor)
Priority service over non-plan customers
Fast response 24-hour/7-day emergency service
Team members background checked and drug tested
Maintain and validate manufacturer warranties
Reduce the risk of costly breakdowns
Increased efficiency and reduce energy costs
Improved comfort and reliability
Maintain safe operation
10% Discount on heating & cooling repairs
Purchase a New CAIRfree™ Maintenance Agreement today and save an additional 10%!
Maintained systems will perform more efficiently, saving you money in lower utility costs, while experiencing fewer breakdowns.