"We can get some pretty rough storms here in North Carolina. It's important to make sure you take precautions before the storm hits, after is just too late."
-HVAC Sales Mgr., Weather Master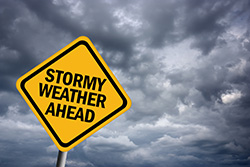 North Carolina storm seasons can be extremely trying and extremely long.
That is why Weather Master is offering a CAIRfree Storm Kit to aid in protecting your equipment during these times…
Surge Protector
Provides 50,000 amps of protection against lightning damage.
Five Minute Delay
Prevents your heating and air conditioning unit from coming on for five minutes after a power surge, saving your compressor from damage.
Super Boost
Helps the compressor start more easily and efficiently which results in longer compressor life.
For more on information on storm surge protection or any of our other products and services, please contact us online. Don't forget to ask us about our exclusive 100% Satisfaction Guarantee!