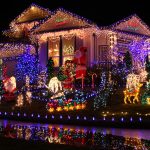 According to the University of Minnesota, Americans spend $65 billion a year on holiday gifts. You'll be spending enough on holiday gifts, you don't need the extra expense of a high electric bill as well. To keep that bill down, you can switch to LED holiday lighting.
Chances are you're still using incandescent bulbs on your string of holiday lights, but LED holiday lights save energy and money. Upfront they can be more expensive than traditional incandescent lights, but LED lights cost much less to operate, making them a more affordable, energy efficient option.
---
Cost comparison
If you compare a string of 10 incandescent holiday bulbs versus a string of 10 LED holiday bulbs the math speaks for itself:
10 incandescent bulbs = $27-$33 per month
10 LED bulbs = $0.80 per month
Style
When choosing LED holiday lights, you don't have to compromise on style. LED holiday lights are available in all the shapes and styles that incandescent string lights come in and more. LED holiday lights are made of a durable plastic instead of glass, making them great for indoor and outdoor use.
Other benefits
Besides cost savings, LED holiday lights are frustration free, if one bulb does break or go out the other lights on the string won't go out. LED holiday lights can last up to 40 holiday seasons.
And unlike incandescent bulbs that burn hot and pose a fire risk, LED's are cool to the touch and reduce the risk of fire hazards.
---
Additional ways to save
Switching your holiday lights to LEDs is a great place to start when trying to save on electricity during the holidays, but there are additional ways you can make a savings impact on your utility bills.
Reduce the size of outdoor light displays
Use fiber optic light decorations
Put your holiday lights on timers – there's no need for them to be on all day
Don't peek into the oven when you're baking because it drops the oven's temperature as much as 25%.
Use the microwave or a toaster to heat things up that don't have to be cooked in the oven
Turn your home heat down when cooking in the oven – decreasing your thermostat by just 1 degree can decrease energy usage by 3%
Insulate exposed pipes if you live in a colder climate
Purchase energy efficient gifts