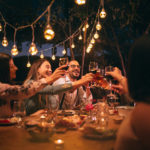 The 4th of July has come and gone but that doesn't mean you're not going to throw anymore backyard BBQs or parties. With that in mind, the sunshine and warm weather that draws us together this time of the year can also pose a challenge to keep everyone cool and comfortable.
Here are five tips on how to keep your guests cool this season:
1. Take advantage of water misters
We put misters on here first as they provide a unique level of cool and comfort while also being very affordable. Most misters can be attached to a patio hose or faucet and can lower the temperature in an area by up to 20 degrees! That's impressive cooling considering the cost for a mister is typical around the $20 mark.
2. Keep your guests hydrated
Much like the way summer gatherings are centered around grilling, they also tend to be centered around beer and other adult beverages that worsen dehydration.
And while the adults are enjoying beer or wine, the kids are usually drinking sodas, which are not nearly as hydrating as good, old-fashioned water. Tea has caffeine, so it is not as hydrating as water, but serving iced tea can also help keep your guests hydrated and cool.
Encourage your guests to drink water by making it readily available wherever they can grab a drink. Make sure your beer and soda coolers or buckets also have some bottled water. You can also make it more appealing by filling a large drink dispenser with water and adding sliced lemons, limes, oranges or cucumber.
3. Consider portable coolers
Portable coolers are a great way to keep refreshments cool and close by. But we're not talking about your standard type of cooler we're talking about electric coolers that keep things cold without having the added hassle of adding ice. These coolers often times come with rechargeable batteries that make bringing them to parks or tailgates even easier.
4. Install outdoor fans
Keeping the air moving is an effective way to keep your outdoor living areas cooler, which makes patio fans a necessity for any homeowner who hosts parties during the hotter summer months. Ceiling fans are readily available for covered patios, and oscillating, standing fans designed for outdoor use can be found at home improvement stores. Even a regular box fan can make a big difference on a hot day.
5. Limit or delay fire features
Fire pits and patio fireplaces provide a central gathering place and a welcoming environment at parties, but when the weather heats up, it might be best to forgo the fire features. If you really want to have an inviting fire to help set the mood, hold off on lighting it until after dark and after the temperature has dropped significantly. You should also make sure you have plenty of seating options that are away from the fire feature allowing guests to avoid the heat if desired. Sitting away from the fire still allows you and your guests to enjoy the light and ambiance without feeling the extreme heat.
If you decide to take the party inside, but you're wary of your A/C unit's ability to keep its cool, our HVAC technician can set your system up for success! Give Weather Master a call at (919) 853-7910 or schedule an appointment online.