"What if you could get endless hot water, on demand (no more cold showers!) and save on energy costs? Ask us about our line of tankless water heaters."
-Sales Mgr., Weather Master's Mr. Plumber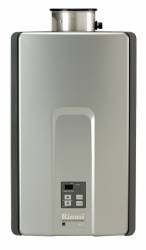 At Weather Master's Mr. Plumber, we are proud to offer Rinnai® tankless water heaters to the Raleigh, NC area. Tankless units heat water on demand so you save money and reduce waste by not heating and reheating the same tank of water.
Endless Hot Water
Never take another cold shower again! You're never limited to a fixed pre-heated supply (as in a tank) because tankless water heaters heat water as needed. You'll enjoy hot water when you want it, for as long as you need it. Take a shower, do laundry and wash dishes all at the same time!
A Rinnai® tankless water heater offers high volume output and heavy duty reliability. With a capacity up to 9.8 gallons per minute (GPM) of hot water, these units are capable of supplying continuous hot water to multiple appliance outlets simultaneously, ensuring that you never run out of hot water in your Raleigh area home.
Heat Water Only When You Need It
Rinnai Tankless Water Heaters use natural gas or propane to heat water only when needed. When water flow is detected, the unit begins heating water as it passes through the copper heat exchanger. When the demand for water ceases, the tankless unit shuts down, using no gas or electricity while idle. Because of its tankless design, the Rinnai unit captures up to 84% of the heat energy, making it highly efficient and cost effective.
Space-Saving Design
Whether you're building a spacious new home – complete with luxurious spa bath and body spray system – or remodeling an older home, Luxury Series units can be used individually, in pairs, or in banks of three or more to supply all your hot water needs. Place interior-mount units in any room and vent directly to the outside, saving up to 16 square feet of valuable floor space over a standard tank water heater.
With tankless water heaters, you'll enjoy energy savings, better performance, extended life, fresh water, space savings and more capacity than traditional "tanked" water heaters.
For more on tankless water heaters or any of our other products and services, please schedule service today. Warranties and guarantees apply to residential replacement products only. Not valid on new construction products – see your builder for details. Don't forget to ask us about our exclusive 100% Satisfaction Guarantee!
Customer Review
"Phenomenal. My hot water heater started leaking. Weather Master's Mr. Plumber was here the next morning, a Saturday. The technician installed a tankless water heater, which I have been wanting. The team returned on Monday to finish and came back to adjust the temperature. Everyone was punctual and efficient." – John