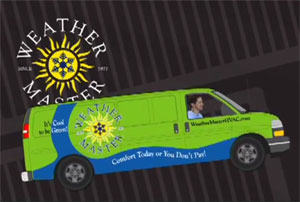 Since 1977, Weather Master and Mr. Plumber have been serving homes and businesses in Wendell, NC, Eagle Rock and the entire triangle area. Our goal is to provide world-class service with a small-company touch. We offer quality service and our trained plumbers and heating & air conditioning technicians can handle all of your HVAC and plumbing needs. We also offer a full range of products including air conditioners, furnaces, heat pumps, water heaters, tankless water heaters, thermostats and more. We are completely committed to doing "Whatever It Takes" to deliver immediate comfort to North Carolinians and our mission is to grow through establishing long-term relationships with their clients. We'll work hard to earn your trust and making you a lifelong customer!
Air Conditioning Repair Wendell, NC
Our air conditioning technicians have been servicing, repairing and installing air conditioners and heat pumps in Wendell and the surrounding area for over 46 years now. Weather Master's air conditioning services are available 24 hours a day, 365 days a year. Our maintenance vehicles are stocked and ready to handle your air conditioning repair and heat pump repair needs in Wendell. We also carry a wide range of new air conditioning units, ductless split systems and heat pumps and can help you select the right cooling system for your home or business.
Plumber Wendell, NC
Weather Master's Mr. Plumber can handle your plumbing needs in Wendell, NC. From clogged drains and leaky pipes to parts and new equipment, we have you covered. Our trained plumbers meet our rigid certification standards and our customer care policies are unmatched in the industry. Our plumbers are friendly, professional and knowledgeable and ready when you need them with 24-hour plumbing service. Plumbing services and products we provide to Wendell residents include:
Drain Cleaning
Water Heater Repair & Installation
Sewer Line Repair & Replacement
Water Heaters
Tankless Water Heaters
and more
Electrician Wendell, NC
You can also count on Weather Master for quality electrical service when you need an electrician. Your home's electrical system is a complex network connected to many of the components and devices in your home or office. Attempting to repair an electrical system without the proper knowledge can be dangerous and even deadly. But don't worry, our skilled electricians are ready to help. We know that electrical emergencies can happen at any time, so our electricians are on call, 24/7.
We hope you will consider Weather Master for all your heating, air conditioning, plumbing, electrical and indoor air quality needs. We'll work hard to earn your trust and look forward to making you a lifelong customer!
Customer Review
"Weather Master put in a new heating and cooling system for me. They were very professional and they did everything in a timely matter. Andy was so wonderful with helping me get financing for my new systems. They are truly a wonderful company and I would highly recommend them." – Harry