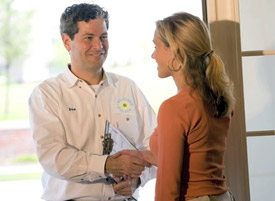 Since 1977, residents and businesses in the Fuquay-Varina, NC area have relied on Weather Master & Mr. Plumber. We are here to help with all of your home service needs including heating & air conditioning, plumbing and electrical service.
We strive to be the best and work hard to earn your trust and confidence by providing world-class service with a small-company touch. Along with great HVAC, plumbing and electrical service, we also offer a large selection of products to help meet your home comfort needs. Some of these products include air conditioners, heat pumps, furnaces, thermostats, tankless water heaters and more. We are committed to doing "Whatever It Takes" to deliver comfort to you.
Heating & Air Conditioning Repair Fuquay-Varina
Our certified heating and air conditioning repair technicians have serviced heating and cooling systems in Fuquay-Varina and the surrounding area for 46 years. Our HVAC service is available 24 hours a day, 365 days a year. Our maintenance vehicles are fully stocked and ready to handle all of your heating and air conditioning needs! We also carry a wide range of quality HVAC equipment and can help you understand all of your product options and determine which system would be best for your home and budget.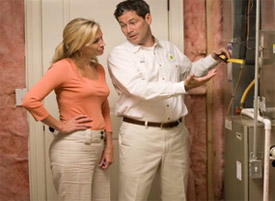 Furnace Repair
Heat Pump Repair
Air Conditioners
Furnaces
Heat Pumps
Ductless Split Systems
Air Handlers
Thermostats
and more
From service and repair to new HVAC system installations, give Weather Master a call when you need a heating & air conditioning contractor in Fuquay-Varina, NC!
Plumber Fuquay-Varina
From clogs and leaks of all sizes to parts and new plumbing equipment, Mr. Plumber is the plumbing contractor to call in Fuquay-Varina. Our skilled plumbers meet our rigid certification standards and our customer care policies are unmatched in the plumbing industry. We are here for you 24 hours a day, every day of the year, guarantee our services in writing and offer 100% satisfaction or your money back. We offer a wide selection of plumbing products and services including: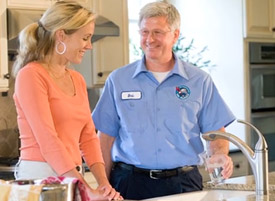 Toilet Repair
Water Heater Repair
Drain Cleaning
Sewer Line Repair
Sink & Faucet Repair
Water Testing
Water Purification Systems
Water Heaters
Tankless Water Heaters
and more
You can always count on Mr. Plumber when you need a plumber in Fuquay-Varina!
Fuquay-Varina Electrician
Dimming lights? Tripped circuit breaker? Faulty switches or outlets? When you need a quality electrician in Fuquay-Varina, call Weather Master! Our phones are answered live, so you can get your questions answered quickly and conveniently, with appointments made at your convenience. We are dedicated to providing you with excellent service so that your problem and life can get back to normal as quickly as possible. Our electricians have the tools and the skills necessary to make minor or major electrical repairs, and can typically have your home back up and running on our first visit. Never ignore an electrical emergency – call Weather Master right away.
From our sales professionals to our technical staff, our goal is to provide you with the best service possible. We hope you will consider us for all your heating, air conditioning, air quality, plumbing and electrical service needs.
Give us a call or schedule HVAC, plumbing or electrical service online today.
Customer Review
"Kenneth was wonderful, efficient and friendly when he was at my home for repairs. He did a great job, as always." – Jonathan
The History of Weather Master
Weather Master, locally owned and operated, has been serving homeowners and businesses in Fuquay-Varina since 1977 and has a rich history in the community. Over the years, we've earned a reputation for superior technical skills in air conditioning, heating, air quality, plumbing and electrical service.