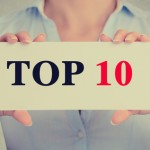 Fall is right around the corner, and despite the beautiful North Carolina weather that we have been enjoying- colder weather is coming.
While most people wait until they need to turn their heating system on- now is the best time to get your furnace or heat pump ready for the colder weather to come.
Here at Weather Master, we have put together a Top Ten list of our favorite reasons why you should maintain your furnace. Go ahead and pick your favorite one and let us know when you call!
Ten- Be the favorite around your house and save your family from an unexpected furnace breakdown this winter. Annual maintenance can identify potential problems in your furnace or boiler before they become emergencies.
Nine- Annual inspections and maintenance can help extend the life of your furnace. Angie's List says so.
Eight- Just like any other major piece of mechanical equipment, your heating system needs regular maintenance to help keep it running smoothly.
Seven- You wouldn't skip an oil change for the life of your car, would you?
Six- Some experts say up to 75% of furnace breakdowns are due to neglected maintenance.
Five- Set your family up to save this winter- a regularly maintained heating system can help with lower utility bills.
Four- Clean up your act. A cleaner furnace recirculates cleaner air. Don't forget about changing that filter monthly too!
Three- Ensure your family's safety this winter- a furnace or boiler inspection can identify carbon monoxide leaks and other unsafe issues with your HVAC equipment.
Two- You get to spend about an hour with quite probably the best HVAC technician in North Carolina!
And of course, our number one favorite reason to tune up your furnace- your furnace needs lovin' too.
For more information about maintaining your heating system please visit our website or give us a call. If you're in our Raleigh, North Carolina service area, you can schedule service online with Weather Master.
Weather Master has been serving Wake, Durham, Granville, Orange, Chatham and Johnston Counties since 1977. By providing the very best in air conditioning, heating and plumbing equipment, and service, Weather Master strives to deliver world-class service with a small-company touch. Give us a call if you need furnace repair in Raleigh or the surrounding areas.