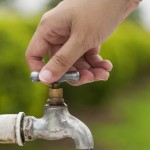 Saving water is especially important during the summer and is a simple way to save money, live greener and lessen your impact on the environment.
Most people are aware that their plumbing and drains usually get more use during the summer. As we water our lawns and gardens, host cookouts and wash our cars, we typically need to use more water.
However, you may be surprised to learn just how much water we use on a daily basis.
The L.A. Times reported that most Americans use twice as much water as they believe they do, consuming an average of 98 gallons EACH day.
Here at Weathermaster, we believe people would conserve more water if they knew how simple it can be, so we have put together this list of 3 ways to save.
3 Simple Ways to You Can Save Water Starting Today:
Save Water in the Shower- According to National Geographic's Water Conservation Tips, switching to a low-flow showerhead can save you up to 15 gallons of water during a ten minute shower.
Save Water by Upgrading or Retrofitting Your Toilets- If you have an older toilet, you can save a significant amount of water immediately by replacing it with a more energy efficient model. In fact, conserveh20.org reports that your toilet can make up about a fourth of your family's water use.
When shopping, look for the WaterSense label or check to make sure your model uses no more than 1.28 GPF (Gallons Per Flush). Compare 1.28 GPF with the 3-7 GPF of older toilets and you'll see why we think upgrading your toilet is a good idea!
Save Time AND Water with These Dishwashing Tips- No one likes cleaning up after a summer barbeque. The good news is that you can save time, effort and most often energy and water by using the dishwasher to clean up. Just make sure that you skip pre-rinsing your dishes first and load your dishwasher with these tips from treehugger.com.
For more information about how you can save water or upgrading your plumbing, please visit our website or give us a call. If you're in our Raleigh, North Carolina service area, you can schedule service online with Weathermaster.
Weather Master has been serving Wake, Durham, Granville, Orange, Chatham and Johnston Counties since 1977. By providing the very best in air conditioning, heating and plumbing equipment, and service, Weather Master strives to deliver world-class service with a small-company touch.