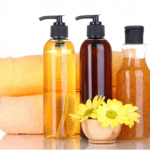 Are you entertaining this holiday season and looking to put your best foot forward- and fast?
We recommend taking a closer look at the bathrooms in your home that guests use most often.
People are more likely to notice details and changes you make in small spaces- so you can make a larger impact here, in just a few steps.
We like the DIY flare of the projects below. But if your update turns remodel we always recommend at the minimum consulting with a pro. Any of these ideas can be completed from start to finish on a Saturday afternoon. Have fun!
1) Shed bulky, unappealing packaging.
One of the quickest, least expensive ways to make an impact on the look and feel of your bathroom is to transfer your toiletries to more attractive containers. We suggest choosing a color theme that coordinates with your design if you choose clear containers.
This tip works especially well in guest bathrooms as it lends itself to a spa look for less. And you will often save money and time by refilling
2) Add a shelf or two.
With the rise in popularity of upcycled and repurposed design, you can easily build a shelf out of materials you already have around your home. Mount a small drawer on its side to store accessories or add brackets to virtually any sturdy flat surface and you have new storage and décor in one.
3) Upcycle your tableware.
Organize hair ties, cotton balls, brushes and other small toiletries into the nice cups and bowls you aren't using. If you don't have any you are willing to part with you can often find tableware at thrift shops to match your décor.