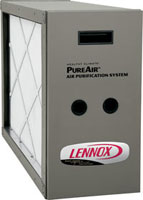 Lennox PureAir™ Purification System
The PureAir™ Purification System is the only single indoor air quality system that can safely remove and destroy chemical vapors and odors. It also captures small particles and microorganisms. Using patented light-purification technology and two types of filtration, the PureAir™ system cleans the air better than any other single system you can buy.
Weather Master Heating & Air is pleased to introduce the Lennox® PureAir™ Purification System, the most effective whole-house air filtration system available. With a Lennox® PureAir™ Purification System from Weather Master Heating & Air as part of your total comfort system, you and your family can breathe easier than ever before.
Industry-exclusive air purification technology.
Only single indoor air quality system to attack all three classes of indoor air contaminants:
Small, breathable particles such as dust, dirt, pollen and allergens
Airborne mold spores, bacteria and viruses
Odors and chemical vapors
MERV 16* PrecisionPleat™ media filter
Hospital inpatient care/general surgery level filtration
Removes OVER 95% of particles ranging in size down to .3 micron**
Removes OVER 90% of bioaerosols ranging in size down to .01 micron**
Removes and destroys approximately 50% of household odors and chemical vapors in a 24-hour period***
Reduces and destroys ozone – a product of pollution and a known lung irritant****
5-Year Limited Warranty on covered components
*MERV=Minimum Efficiency Reporting Value. Describes filters ability to capture particles ranging from 1-16. Typical fiberglass filter=The higher MERV rating, the better filtration
**One micron=1/25,000 of an inch in diameter
***Based on laboratory & field studies
****U.S. Environmental Protection Agency, "Ozone Generators that are Sold as Air Cleaners: An Assessment of Effective & Health Consequences" August 06
For more on this or any of our other products and services, please contact us today. Don't forget to ask us about our exclusive 100% Satisfaction Guarantee!